The Alienware Area51 Threadripper is a high-performance gaming desktop computer that is designed to cater to the needs of gamers, creators, and mega-tasking streamers. It is equipped with a 16-core AMD Ryzen Threadripper processor, CPU liquid cooling, and a Triad design. The machine is ideal for those who want to play, record, and create simultaneously in 4K resolutions.
What is a Ryzen Threadripper?
Ryzen Threadripper, AMD's high-end processor series, caters to demanding enthusiasts and professionals. With up to 16 cores and 32 threads, these processors excel at multitasking, supported by ample cache memory and quad-channel DDR4 RAM for enhanced speed.
Threadripper processors share the Zen architecture with regular Ryzen CPUs but feature distinct elements. They employ the TR4 socket with 4,094 pins, necessitating an X399 chipset-compatible motherboard. Furthermore, they offer an unlocked multiplier for overclocking, unlocking additional performance potential.
What is Alienware Area51 Threadripper Edition?
The Alienware Area51 Threadripper Edition is a gaming desktop PC that highlights Ryzen Threadripper processors. It offers various configurations, with the most powerful sporting a 16-core Ryzen Threadripper 1950X CPU, overclockable to 4.2 GHz across all cores.
This high-performance PC also boasts dual Nvidia GeForce GTX 1080 Ti graphics cards with liquid cooling, 64 GB of DDR4 RAM, a speedy 256 GB SSD, and a capacious 2 TB HDD.
Yet, the Alienware Area-51 Threadripper Edition goes beyond raw power. Its striking design sets it apart, featuring an irregular hexagonal shape reminiscent of a spaceship. The PC combines silver and black panels with captivating RGB lighting effects.
Its second-generation triad chassis simplifies component access and facilitates tool-less upgrades. The PC provides an array of connectivity options, including USB-C, HDMI, DisplayPort, optical audio, surround sound, Wi-Fi, Bluetooth, and an SD card reader.
Here We Have MAGCH Tablet Review 2023
What can you do with Alienware Area51 Threadripper Edition?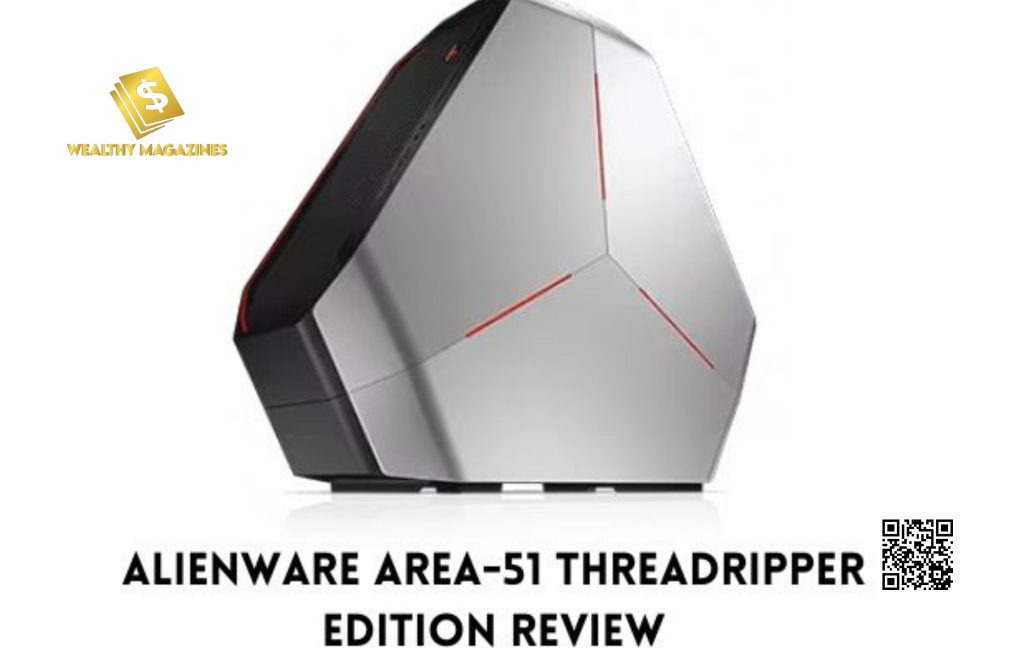 The PC can handle any task you throw at it, regardless if it's gaming, content creation, or streaming. Here are some examples of what you can do with this PC:
Play any game in 4K resolution with ultra settings and smooth frame rates. The dual GTX 1080 Ti graphics cards can deliver stunning visuals and performance in any genre, from FPS to RPG to VR. You can also enjoy immersive sound with the Dolby Atmos technology and the Alienware Sound Center software.
Record, edit, and stream your gameplay in high quality with the Ryzen Threadripper CPU. You can use software like OBS or XSplit to capture your screen and audio and use programs like Adobe Premiere or DaVinci Resolve to edit your videos. You can also stream your gameplay live to platforms like Twitch or YouTube with minimal lag or stuttering.
Create amazing 3D models, animations, or simulations with the Ryzen Threadripper CPU and the GTX 1080 Ti graphics cards. You can use software like Blender, Maya, or Unreal Engine to unleash your creativity and produce stunning results. You can also render your projects faster with the GPU acceleration feature.
Work on multiple projects or applications at once with the Ryzen Threadripper CPU and the 64 GB of RAM. You can run multiple programs or tabs without slowing down your PC or compromising your performance. You can also switch between tasks seamlessly with the Windows 10 Home operating system.
Is Alienware Area51 Threadripper Edition worth it?
The very edition is a very powerful gaming PC. It's great for both gamers and creators. However, it's quite expensive, starting at $2,399 and going up to $5,919 for the top configuration. Some may find this price high, especially when you can build a similar PC for less.
But if you want an all-around PC, don't mind the high price, and appreciate Alienware's brand and design, this PC is a good choice. It offers durability, excellent gaming and creative performance, and a certain level of prestige among peers and competitors.
What are some alternatives to Alienware Area51 Threadripper?
Some alternatives to Alienware Area51 Threadripper are:
HP Omen 25L / 30L: Gaming desktop PCs with AMD Ryzen processors and Radeon graphics. They offer a modern design, RGB lighting, and easy access for upgrades. The HP Omen 25L starts at $999, while the HP Omen 30L starts at $1,199.
ROG Strix GA15: A gaming desktop PC featuring an AMD Ryzen 7 processor and Radeon RX 5700 XT graphics. It's compact with a carrying handle and effective cooling. The ROG Strix GA15 costs $1,499.
HP Pavilion Gaming Tower: A gaming desktop PC equipped with an AMD Ryzen 5 processor and Radeon RX 5500 graphics. It features a sleek design with RGB lighting and a front-facing USB-C port. The HP Pavilion Gaming Tower costs $699.
Summary
The Alienware Area51 Threadripper is an excellent choice for gamers, creators, and mega-tasking streamers who want to experience unbeatable performance while playing games or creating content in 4K resolutions. With its iconic Triad design, efficient cable management clamps, and advanced liquid cooling system, this machine is sure to impress even the most demanding users.
For more info visit Wealthymagazines.com